WAKISA MINISTRIES UGANDA
REBUILDING PROJECT APPEAL 2014
The world financial crisis has far reaching effects with job losses and inflation affecting most countries throughout the world.  Charities are hit hardest in a time of recession with people having less disposable income to give to these needy causes.  This has severe consequences for exploited and abused children in under developed countries such as Uganda.  We have sent teams from Kilkeel to Kampala in 2006, 2010 and 2011 to complete a series of projects which were of great benefit to Wakisa Ministries and Dwelling Places and to the abused young girls and street children they care for.  This gave us an understanding of the problems these organisations have to deal with and hopefully the ability to develop worthwhile collaboration in this mission.
Wakisa Ministries was born out of Mrs. Vivian Kityo's vision and passion for young women with unwanted pregnancies in Uganda. The primary focus is the physical, emotional, social and spiritual health of the girls, young mothers and their babies. One of the strategies to deliver care was the establishment of a crisis pregnancy centre within the suburbs of Kampala. The centre was originally built as a residence and in more recent years was rented as office space for businesses. On a day-to-day basis, the Centre is run by Vivian, two administrative staff, a house mother who lives on the premises and a driver. Once a week, a professional counsellor volunteers her time to provide counselling support to any of the girls who require it, but especially to those who may be traumatised for a variety of reasons. There is also a constant stream of other volunteers who sew into the lives of the girls by teaching them various life skills such as literacy, cooking, candle making, weaving of mats and other objects, bead making, basket weaving, Bible studies, AIDS awareness etc. Because this great work receives no funding from the local authorities, all funding comes from private donors, some local but mostly from overseas countries such as the US, Australia and the UK. Wakisa Ministries is always in need of support.
In November 2011 an unattended candle started a fire in the dormitory of Wakisa ministries, destroying it except for the foundations. Fortunately no one was hurt, but the ability to help these unfortunate girls was substantially reduced.
The fire damage at Wakisa Ministries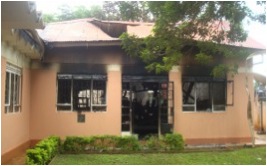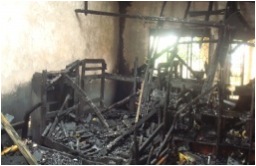 It was a real shock to the staff and residents and disrupted the foundations of Wakisa ministries when the fire gutted the dormitory.  Before the fire they were able to cater for more than 30 girls at a time.  The lockers, beds and bedding materials as well as all the girls' property were destroyed in the fire.  Wakisa now find themselves turning away pregnant girls as there is no room to support these girls who are going through a desperate crisis in their young lives.  The surviving part of the building has been adapted and after repainting and refurbishing the lounge it has been turned it into a dormitory.  It is a small area and the beds are squeezed in. Hopefully there will be no outbreak of flu or any other type of infection in this confined area.  There is little space for the new lockers and the girls have to keep moving their bags when cleaning the place.  The counselling room is now serving as a counselling room during the day and a lounge in the evening but it is too small for the girls to relax together.
WHAT NEXT?
DORMITORY and HALL RECONSTRUCTION
     New Dormitory Building at Wakisa                                                    Roof completed on new building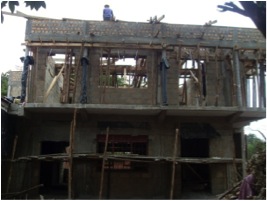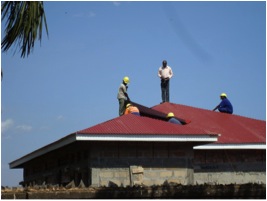 I will be coordinating a small team to travel to Kampala for approximately 14 days to complete the following work at Wakisa Ministries on 27th May 2014.
1.     Installing solar power panels to provide free electricity to cut running costs and eliminate the use of candles.
2.     Electrical installation in new dormitory building.
3.     Tiling new bathrooms, woodwork and painting in all the buildings at Wakisa.
4.     Installing new deeper rain catching guttering to capture fresh water.
5.     Erecting Fence for privacy to help protect the girls.
6.     Building and repair work in outdoor kitchen and yard.
Thank you to everyone who has donated funds for this project, we still have to raise a further £5000 to purchase the materials needed to complete this work.  We ask for your continued support to help our friends at Wakisa Ministries and give these unfortunate young girls a refuge and a new start in life.
PERSONAL EXPERIENCES OF SOME OF THE GIRLS HELPED BY WAKISA MINISTRIES.
JULIANA'S ORDEAL
Juliana Neema a 17 year old school girl in senior six, the eldest of five children who lived with her mother in Goma, Congo.  Her dad had another wife. One day In October 2012 Juliana was returning home from school, she found 7 soldiers in her home harassing her mother. Her mother had already been beaten and all her money had been stolen.  When they saw Juliana they were excited and said they had found what they were looking for. The soldiers started touching her and when she resisted they started cutting her arms, her back, her neck and her chin and she started bleeding so much she fainted.
Her mother pleaded with the soldiers to take her instead of her daughter but, instead of taking her one of the soldiers raised his rifle and shot her as Juliana was watching. Juliana fainted due to shock from this violent and traumatic act. When she regained consciousness she found herself lying on the ground totally naked and covered in blood.  She saw her mother lying dead.  There was one soldier still standing beside her and he abused her violently.  This time she was conscious but had no strength to fight back.  The soldiers also abused other girls who were in the village before eventually leaving. Later some friends found her lying on the ground and took her with them to a nearby camp where they remained for two weeks.  She was treated in the camp with herbal leaves by several old ladies. Juliana was distressed when she realized she was in a strange camp and she remembered what had happened to her and her mother.
Juliana eventually managed to escape from the Congo on 12th April 2013 and reached Uganda on the 14th April. She escaped on a truck with a number of fleeing families and eventually ended up in Kampala at the central police station.  Juliana arranged to stay in Kampala with one of the families who escaped with her on the truck from the Congo.   No sooner had she settled in with this family when they were chased out of the house because they could not afford the rent. Juliana had to come back to the police station and they handed her over to Compassion International.  Back at her home in the Congo the M23 rebels are still controlling Mazhego in Goma. The senior soldiers of M23 are constantly attacking and abusing any women they find in the surrounding districts
Juliana is now 7 months pregnant but still in denial about the whole traumatic experience. She does not know how many soldiers abused her.  Juliana is asking herself; "now my mother is dead where do I go with this child?" and worries what will happen to her in the future.  Juliana often has hallucinations – when she imagines her mother is shouting at her to follow or she hears her voice telling her to be a good girl and concentrate on her studies as she used to tell her when she was alive.   This happens more when she is worried and then she worries even more when she imagines her mother is calling her to follow!
Juliana has sleepless nights and often cries. It is ongoing counselling, support and activities at Wakisa Ministries that will keep her mind off the traumatic experience she had to endure. I could not help shedding tears as Juliana told her story in her calm voice.  I could clearly see her pain, hurt and shame underneath her calm voice. She was looking down all the time and of course tears were streaming from her eyes!  After she delivers her baby we will need a home to take in this young traumatized Congolese girl and her baby.
Brenda
Brenda was abused by her father for two years until she conceived and ran away from home. Wakisa Ministries rescued her but she had kept the secret of the paternity of her unborn baby.  This man continued coming to visit her. He wanted to take her home. That was when a bitter Brenda, now 13, confessed to Kityo that it was her father who had abused her sexually and that she did not want to go back home.  The Wakisa director called the police and briefed them about the issue. So when the father came to pick the girl, the plain-clothed police handcuffed the man and took him away. He is now in Luzira prison.  Brenda gave birth to very tiny twins. To her, the babies were some form of dolls. She played with them and did not see them as children. Wakisa Ministries traced her relatives in Masaka and she is now living with them.
Sharon
At 13, Sharon is expecting a baby. She was a victim of rape at the hands of her stepfather. One time, the man beat up his wife so bad that she had to be hospitalized. While the woman nursed her wounds away in hospital, the man used the opportunity to rape Sharon.  When the man's relatives found out that the girl was pregnant and that the case had been reported to the police, they wanted to finish her off – kill her. That is when someone took her to Wakisa Ministries.  She is now eight months pregnant.
These three humbling accounts are only a tip of a gigantic iceberg. More and more girls do share similar, and even worse, experiences.  What troubles us more is that the innocence of many of these girls is snatched right away from them by their very own relatives – fathers, brothers, uncles, step-fathers. Wakisa Ministries is a library of so many of such sad stories.

APPEAL FOR SPONSORSHIP FOR THE YOUNG MOTHERS OF WAKISA MINISTRIES
In Uganda, it is culturally unacceptable for an unmarried pregnant girl to live under the same roof as her father – it attracts too much shame on the family. So usually the girl is sent away, many times to fend for herself. While begging on the streets or seeking to survive by obtaining employment, they are further abused. The lucky ones find their way to Wakisa. Wakisa generally takes girls up to 18 years of age but the youngest ones may only be 11/12 – many have been raped, sometimes by a family member.
Over 80% of them would love the chance to go back to school but their parents or guardians are unable to take them back because of a variety of circumstances.
YOU CAN GIVE THESE VUNERABLE YOUNG GIRLS A SECOND CHANCE IN LIFE AND A BETTER OPPORTUNITY TO GET A JOB BY DONATING TOWARDS THEIR SCHOOL FEES. 
PRIMARY SCHOOL (three terms per year)
PRIMARY EDUCATION  £120
BOARDING SCHOOL REQUIREMENTS  £48
TOTAL PER TERM  £168
TOTAL PER YEAR  £504
WEEKLY COST £10.50
SENIOR SCHOOL (three terms per year)
O' LEVELS  £145
BOARDING SCHOOL REQUIREMENTS  £70
TOTAL PER TERM  £215
TOTAL PER YEAR  £645
WEEKLY COST  £12.50
SENIOR SCHOOL (three terms per year)
A' LEVELS  £170
BOARDING SCHOOL REQUIREMENTS  £70
TOTAL PER TERM  £240
TOTAL PER YEAR  £720
WEEKLY COST  £13.85
Appeal for Wakisa Ministries

IF YOU WOULD LIKE TO HELP CONTACT DAVID   ORR  Email: kpcwakisa@btinternet.com
£13.85 per week will educate a girl in Senior school to 'A' Level standard including all boarding school costs.  This is a small sacrifice to help these girls get an education so they can support themselves and get out of the situation they have been forced into.
In Uganda power outages are a common occurrence, sometimes the power will be turned off for 24 to 48 hours at a time, this makes it difficult to perform normal daily tasks.  Therefore the provision of Solar power at Wakisa ministries will be an essential addition to the care of these abused young girls as well as the smooth running of the administration and care by the staff and the volunteer helpers.  Our plan is to complete renovation by early June 2014 so that the building can be reoccupied. We appeal to the national and international community, charitable foundations, individuals and other well-wishers to contribute to this noble cause. Your generous donation would contribute to the project and share in this wonderful opportunity to help these underprivileged and abused young girls.
If you want to donate use our Just Giving web site click on the following link: https://www.justgiving.com/kpc-Wakisa
Thank you in advance for your consideration and support.