In 1822 there were no Presbyterian Churches in Rostrevor, Annalong or Newcastle. The only Presbyterian Church in the area was Mourne P.C. Their nearest neighbours were at Narrow Water (Warrenpoint) and Castlewellan. The Markethill Presbytery reported in that year that they had been making attempts to set up another Presbyterian church in Kilkeel but, for a number of reasons, it had failed to materialise. However, Kilkeel Presbyterian Church was then initially formed in 1822 as a Seceder church but was initially unable to secure the services of a minister.
Eventually, on 21st August 1827 Rev John Allen became the first minister. The congregation had no place to meet except a small and inconvenient room. Rev Allen hired a large house which served to accommodate both his family and the new congregation. The apartment where the church met could hold 150/200 people.
Soon afterwards a rood of ground, approximately ¼ acre, was purchased to build a church and also provide a burial ground in what is now K.P.C. graveyard, round Meeting House Lane. The church building, which was completed in 1829, was 54ft long, 27ft wide & 14ft high.
Rev Allen left in 1831 & emigrated to the U.S.A. During his time in Kilkeel he also held meetings in the evenings in Annalong when approximately 150/200 people would attend.
Rev George Nesbitt was installed in Sept 1831 & retired in 1874. He was followed by Rev Robert White in Feb. 1875. Rev White then accepted a call to Second Stewartstown in 1882, however he withdrew his resignation and was re-installed in Kilkeel and served here until 1910. He lived in Cromlech House and he was a man of many talents. In addition to being a minister he was also a farmer and was reputed to be a man with a vast medical knowledge On 3rd July 1894 the Foundation Stone of the present church , on Newcastle St, was laid by the Countess of Kilmorey and the new church was opened in 1897.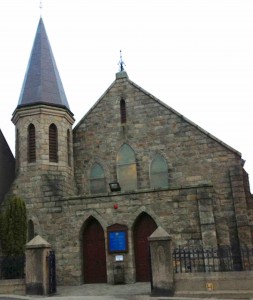 In April 1911 Rev Alfred Eadie was installed, having served as an assistant in Mourne P.C, under the Rev Dr McMordie. Rev Eadie remained as minister for 36 years, when he was replaced by Rev Stanley McKeown in 1946. The ministries of Rev S Fullerton and Rev R Johnston followed, before Rev I McNie was installed in 1980.
During the ministry of Rev McNie an extension was added to K.P.C. in 1986. This was a very complex piece of craftsmanship as the church is a listed building. On the front wall every brick had to be numbered, dismantled and replaced in the exact same place – 30ft closer to Newcastle St. A balcony was also added at the same time. Rev McNie left Kilkeel in 1991, and was replaced the following year by Rev Eddie Kirk, who remained as minister of the congregation until 2003. Since 2004 our minister has been Rev Stephen Johnston. Membership currently stands at about 270 families.
Ministers who have served Kilkeel Presbyterian Church
1827-1831 Rev John Allen
1831-1874 Rev George Nesbitt
1875 -1910 Rev Robert White
1910-1946 Rev Alfred Eadie
1946-1954 Rev Stanley McKeown
1955-1970 Rev Smiley Fullerton
1970-1979 Rev Robert Johnston
1980-1991 Rev Ian McNie
1992-2003 Rev A.L. (Eddie) Kirk
2004-  Rev Stephen Johnston