Kilkeel Presbyterian Church is situated on Newcastle Street in Kilkeel town in the heart of the Kingdom of Mourne. Established in the early 19th century, this is today an active congregation of about 270 families seeking to relate the unchanging gospel in a rapidly changing world.
Many people driving down Newcastle Street may see the Church but be unaware of the suite of halls situated at the back of the main Church building. These are used extensively each week for many church activities and are also used by visiting church groups for overnight weekend breaks.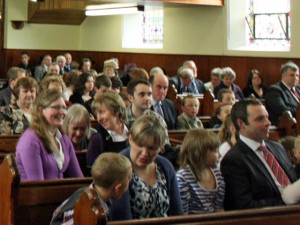 In addition to Sunday services and Sunday Schools a wide variety of activities takes place during the week… Girls Brigade, Boys Brigade, Mums & Toddlers Group, Bowling Club, PW (Presbyterian Women), Thursday Midweek Fellowship, various prayer groups, Friday night Youth Club and Sunday Youth Fellowship.
There is also an active Lifebuilders group bringing in men of all ages and from all backgrounds to exercise and do weight-training.
The Sunday services present an opportunity for people to sing praise to God, spend time in prayer, read the Bible and listen as the minister teaches the Bible and applies it to daily life in the 21st century. The praise is a mix of traditional hymns and modern worship songs, the music provided by a variety of people using a mix of instruments.
A warm Kilkeel welcome will be extended to all!